12 Most Popular Types Of Live Wedding Bands!
The best Live Wedding Bands are in great demand, so don't delay booking yours early to avoid disappointment!
But with so much choice and so many styles and options, where do you begin?
Are you planning a wedding and you've taken care of everything except the music for your evening reception? You're not the first couple to put that task to the bottom of the list, fearing how to get started or confused by the choice available. Maybe you haven't decided what type of music you want, or you don't know what size of band, or you haven't decided on a budget! There's a whole host of reasons that will hold you back from booking your band but if you want a good band that are guaranteed to entertain your guests, you really do need to be thinking about the answers to those questions sooner rather than later, as the best Live Wedding Bands always go first!
The music will set the tone for your wedding reception, it will stir up emotions, and will share a message with your guests, so picking the right band to play for you is key. Choosing the ideal band can be a time-consuming and a difficult task, but trust us when we say that all the effort will be worth it when the music turns the moment into magic on your special day, absolutely everyone is enjoying the party and the atmosphere created by your live-music choice.
No two weddings are the same and no two wedding bands are either! The perfect band will act as a musical centerpiece for your evening event, and will complement and bring more life to your wedding theme.
To help you out, here are some of the most popular types of Wedding Bands you can choose from.
Party Covers Wedding Bands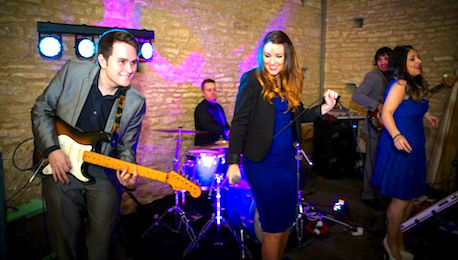 Party Covers Wedding Bands play covers songs by other artists, often mimicking the original as closely as possible, but sometimes re-interpreting or changing the original version to their own interpretation. Choosing a party covers band for your wedding will ensure that you cater for everyone's music tastes as they support a wide range of music including current chart hits, music from past decades, and they also perform many different styles of music too including pop, rock, indie, soul, R&B, reggae amongst others.
Duo and Trio wedding bands are perfect for small weddings. As the name suggests there are only two or three members in the band and that keeps the cost down so, If you are on a tight budget for your wedding choosing a duo or trio wedding band should be much easy your wallet. There are lots of duos and trios and they too can play a selection of party music, similar to a full size covers band but some specialise in a specific genre of music: Pop, Rock, Indie, Reggae or other.
Music defines many of the most important parts of a wedding i.e., the reception entrance, first dance, last dance. Background Music Bands will provide music that creates the ambiance you desire for your wedding, whether you want your wedding. If you want a more laid-back vibe for your wedding and you don't really want a full-on party, a Background Music Wedding bands will give you the vibe you need. You can choose a number of music styles including jazz, swing, reggae amongst others and you can choose the instrumentation that suits your vibe too. Background music bands may be small, duos and trios but can be larger units too, anything up to a 10 or 12-piece if the budget allows.
Trending for the past few years, Vintage Wedding Bands compliment a vintage style wedding with class and there are lots to choose from. tVintage Style Wedding Bands are for the people who are looking to relive the music of yesteryear. If you're planning a retro-style wedding, a Vintage Style Wedding Band will give you the retro vibes from Gatsby style bands celebrating the music of the 1920s and 1930s through to the swing bands of the 40s, rock and roll and rockabilly from the 1950s and the pop bands of the 1960s.
If you want your wedding to be intimate, sentimental, or profound, Acoustic Wedding Bands are a good option. Acoustic songs carry raw emotions and can add to an already romantic atmosphere. Unlike the electric guitar, the unplugged sound of an acoustic guitar, a double bass or a piano will give you the magical music you adore. Acoustic bands will provide that intimate mood and still deliver a wide range of songs for the dance floor, they can also perform in many different music styles.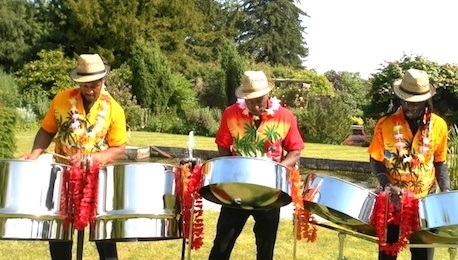 If you want an authentic caribbean vibe for your wedding a Steel Wedding Band is the one for you. Steel bands are best known for playing Caribbean Calypso music but can play any type or style of music including pop, jazz, reggae, and even classical. Perfect for outdoor wedding drinks receptions with an authentic Caribbean vibe, or indoors for the evening music entertainment, they will make your guests feel they're in a tropical paradise, and they are so much fun.
A grand wedding deserves a big wedding band. If you're planning a wedding at a big venue and with a lot of guests it's only proper to match the music to the atmosphere and the size of the venue and the event. Big venues require big production and big wedding bands will provide your wedding the entertainment you deserve.
A tribute act, tribute band, or tribute group is a music group, singer, or musician that performs and copies the style of another famous music act. They can create amazing WOW amongst your guests as their performances are often so good they are hard to tell apart from the original artists! If you're planning a music-themed wedding and cannot afford the original artist or band, a tribute band or act is a great way to entertain your guests and will create an amazing atmosphere and surprise. We have more than 500 tribute acts and bands to choose from; including many award-winning artists.
If you want your guest to leave your wedding reception happy and tired from dancing. A Swing Band is the perfect band for you. This type of band can perform both vintage and modern sewing and can also perform many pop songs in the style of swing too. They will keep your guests on their feet and dancing all through the night with their perfect mix music, style, glamour, and fun, leaving them smiling but exhausted from an evening of swing and jive, but with happy and lasting memories of the amazing night they had at your wedding.
If you're a fan of Reggae and Caribbean music, and prefer your wedding to be laid back and informal, a Reggae Band may be theperfectlive wedding band you're looking for. Everyone likes reggae, and your bands music should provide the relaxing atmosphere your wishing to create. Its slow jerky rhythm will surely get your guests nodding their heads and swaying their bodies.
Funk, a mixture of soul, jazz, and R&B, stems from the 1970s and is a really cool music choice for weddings. If you can't choose between Jazz, R&B and Soul, then hire a Funk band and have a mix of all three styles. Funk music is characterised by funky, syncopated bass lines and steady, infectious drum grooves so, if you're looking to keep your guests on the dance floor you really can't go wrong with choosing a Funk Band for your wedding reception.
Live Wedding Bands - Conclusion
If none of these bands types are to your liking, don't worry, these are only the popular ones. There is still lots to choose from and many different niche styles. Just reach out to us by sending us a message in our live-chat, or call us, we'll help you to find the perfect LIVE WEDDING BANDS to choose from that will compliment the wedding of your dreams, perfectly.
If you want to your wedding to be either grand or laidback, formal or informal, serene or energetic, modern or retro, classy or fun, or a mix and match of all these things there's a plethora of live wedding band choices available that will provide the musical-magic for that picture perfect dream wedding that you desire, all that is needed is to decide what style and size of wedding band you want and what budget you want to commit to, and start auditioning!
We hope this article helped you to answer some of your questions.
We work hard to ensure that all of our customers enjoy a first-class experience of our service and many have responded by reviewing us on Trustpilot.
More than just an on-line agency, UK Live Entertainment supports every client with free one to one consultancy to be certain that you have all of the information you need and the best choice or musicians, bands and entertainers to choose from. Their Agency staff are highly experienced and have a very wide knowledge of the entertainment and events industry and can help and advice regarding entertainment booking and staging to ensure that your wedding entertainment and music is perfect.
UK Live Entertainment handpick musicians and entertainments to ensure that they are the best in their niche, and able to deliver quality entertaining performances
UK Live Entertainment is constantly improving customer service to provide maximum customer support and the most enjoyable experience for all our clients.